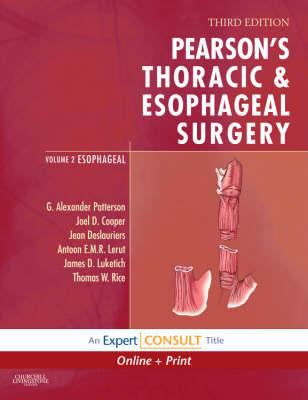 [dropcap]P[/dropcap]ublished as two individual books in its previous editions, this acclaimed reference now comes to you as one comprehensive two-volume resource, covering the entire range of esophageal and thoracic surgery for adults and children. Sixty nine brand-new chapters and 92 new authors deliver state-of-the-art, clear how-to-do-it guidance on the latest surgical techniques for the treatment of lung infections, lung cancer, benign conditions, trauma, reflux, and more―so you can effectively manage every common and uncommon condition you encounter. A new full-color design presents outstanding visual guidance that shows you exactly how to proceed, and a logical organization throughout makes reference easy. As an Expert Consult title, this thoroughly updated 3rd edition comes with access to the complete contents online, fully searchable―enabling you to consult it rapidly from any computer with an Internet connection.
Addresses all surgical diseases of the chest wall, chest cavity, upper airway, lungs, pleura, and diaphragm in adults and children, giving you the comprehensive coverage you need for the patients you see.
Presents clinical commentary at the end of each chapter that offers you a variety of viewpoints regarding the pros, cons, and complications associated with the techniques used to treat a patient.
Comes to you as one complete resource featuring current, comprehensive coverage on all aspects of thoracic and esophageal surgery.
Provides access to the complete contents online, fully searchable, enabling you to consult both volumes rapidly from any computer with an Internet connection.
Presents the newest surgical management techniques, including endoscopy and re-operative and reconstruction procedures for diseases involving the lungs, pleura, chest wall, mediastinum, esophagus, and diaphragm.
Includes 69 brand-new chapters that keep you on the cusp of the latest techniques and procedures.
Offers the expertise of 92 new authors who offer you their proven approaches to the latest techniques.
Discusses the hottest topics in the field such as interventional bronchoscopy for the management of airway obstruction, bronchoplastic techniques, laparoscopic gastroplasty, minimally invasive esophagectomy, and many more.
Presents a reorganized layout, with relevant anatomy and imaging at the start of each section, providing you with all the knowledge and background you need for each anatomic region covered.
Features an all-new full-color design and illustrations―including 300 new images―that illuminate every concept and highlight important anatomical details.
Your purchase entitles you to access the web site until the next edition is published, or until the current edition is no longer offered for sale by Elsevier, whichever occurs first. If the next edition is published less than one year after your purchase, you will be entitled to online access for one year from your date of purchase. Elsevier reserves the right to offer a suitable replacement product (such as a downloadable or CD-ROM-based electronic version) should online access be discontinued.
[divider style="dotted" top="20″ bottom="20″]
Product Details
Series: Expert Consult Online + Print
Hardcover: 2766 pages
Publisher: Churchill Livingstone; 3 edition (May 2, 2008)
Language: English
ISBN-10: 0443068615
ISBN-13: 978-0443068614
[otw_shortcode_button href="http://rapidgator.net/file/35bda06a3c359f2216660d6597dd2fd9″ size="medium" icon_type="general foundicon-down-arrow" icon_position="left" shape="square" target="_blank"]Download[/otw_shortcode_button] [ads1]