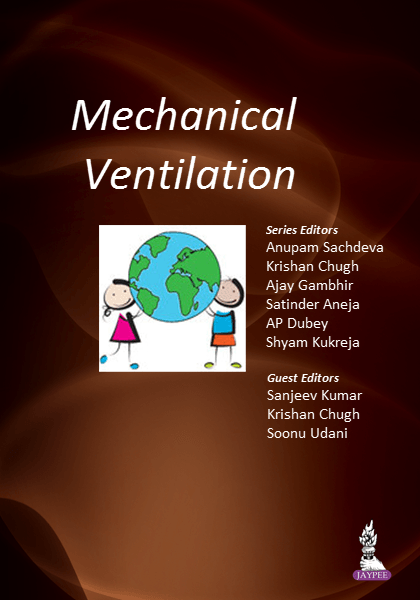 [highlight color="red"]Mechanical Ventilation eBook PDF [/highlight]
[highlight color="blue"]Edited by Sachdeva Anupam, Chugh Krishan, Gambhir Ajay, Aneja Satinder and Co[/highlight]
[highlight color="pink"]Published by Jaypee Medicals[/highlight]
[highlight color="gray"]About the Book[/highlight]
The manual on "Mechanical Ventilation" is edited by Sachdeva Anupam, Chugh Krishan, Gambhir Ajay, Aneja Satinder, AP Dubey and Shyam Kukreja. This First Edition covers all aspects starting from the basic physiology to specialized techniques like high frequency oscillatory ventilation (HFOV) and extracorporeal membrane oxygenation (ECMO).
[highlight color="black"]Features[/highlight]
Pediatric airways and oxygen delivery devices, ventilation in neonates and non-invasive ventilation in children are discussed in individual chapters
The importance of humidification and humidifying devices that are used in mechanical ventilation are also included in the manual
Disease-specific ventilation measures are also discussed
Importance is given to monitoring, with separate chapters devoted to interpretation of graphic displays and monitoring and troubleshooting
Newer modes of ventilation are also described, along with the relevant data from clinical trials
Complications associated with mechanical ventilation and the relevant remedial measures are also described
[divider style="dotted" top="20″ bottom="20″]
[ads1]
[highlight color="orange"]What You will Learn[/highlight]
The Topics Covered in this Textbook are
Basics of Mechanical Ventilation
Pediatric Airways and Oxygen Delivery Devices
Disease Specific Ventilation
Interpretation of Graphic Displays on Ventilators
High Frequency Ventilation
Non-invasive Ventilation in Children
"Bubble CPAP" for Neonates
Newer Modes of Ventilation
Humidification and Mechanical Ventilation
Complications of Mechanical Ventilation
Troubleshooting and Monitoring During Mechanical Ventilation
Extracorporeal Membrane Oxygenation
[highlight color="green"]For Whom is this Book For[/highlight]
The Information placed in this Mechanical Ventilation is essential for all Health Care Professionals including Medical MBBS, Pharmacy and Nursing Students, Doctors, Medical Practitioners, Pediatricians, Clinical Pharmacists and Nurses.
[highlight color="yellow"]Details[/highlight]
Format of the eBook: PDF   Size: 10MB
[otw_shortcode_button href="http://rg.to/file/46bf0f1ee8215c179f9fca2dc9192d73/Mechanical_Ventilation.1E.2015.PDF._www.emedicine.website_.pdf.html" size="medium" icon_type="general foundicon-down-arrow" icon_position="left" shape="square" target="_blank"]Download[/otw_shortcode_button]
[ads1]