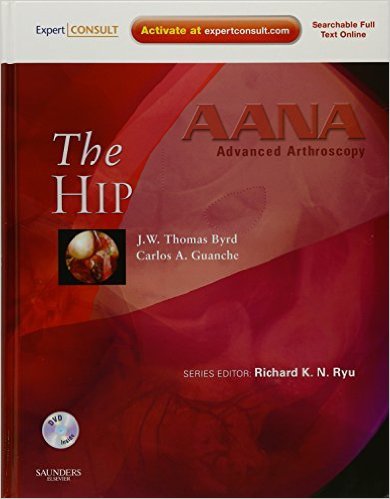 [ads2]
AANA Advanced Arthroscopy: The Hip, by J.W. Thomas Byrd, MD and Carlos A. Guanche, MD, helps you make the most effective use of advanced and emerging, state-of-the-art arthroscopic techniques for managing a wide range of hip problems. Premier arthroscopic surgeons discuss disease-specific options, managing and avoiding complications, and rehabilitation protocols…in print and online. 6 videos demonstrate management of chondral lesions, arthroscopic débridement of pincer impingement and labral repair, arthroscopic femoroplasty: correction of cam lesion, endoscopic release of endotibial band, arthroscopic treatment of peritrochanteric disorders of the hip, and more.
[ads1]
Access the fully searchable text, along with a video library of procedures and links to PubMed, online at expertconsult.com.
Stay current through coverage of hot topics like Tears of the Cartilaginous Labrum, Chondral Lesions, Femoroacetabular Impingement – Cam, Abductor Tears, and External Snapping Hip Syndrome.
Hone your skills thanks to 6 videos of techniques―on Management of Chondral Lesions, Arthroscopic Débridement of Pincer Impingement and Labral Repair, Arthroscopic Femoroplasty: Correction of Cam Lesion, Endoscopic Release of Endotibial Band, Arthroscopic Treatment of Peritrochanteric Disorders of the Hip, and more―performed by experts.
See arthroscopic surgical details in full color and understand nuances through interpretative drawings of technical details.
Optimize surgical results and outcomes with an emphasis on advanced and emerging arthroscopic techniques, surgical tips, and pearls.
Product Details
Series: AANA Advanced Arthroscopy
Hardcover: 184 pages
Publisher: Saunders; 1 Har/Psc/ edition (July 20, 2010)
Language: English
ISBN-10: 1437709117
ISBN-13: 978-1437709117
[box type="warning" align="aligncenter" class="" width=""]This link is not available due to a takedown request in accordance with the DMCA . (learn more)[/box]
[ads1]
[ads2]