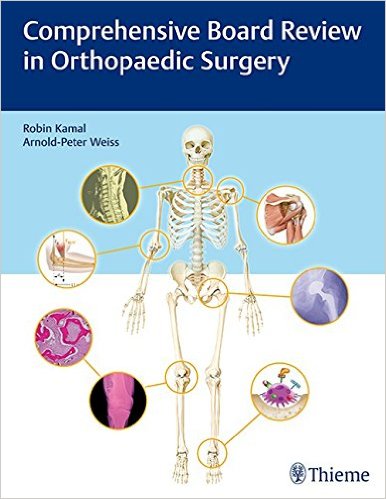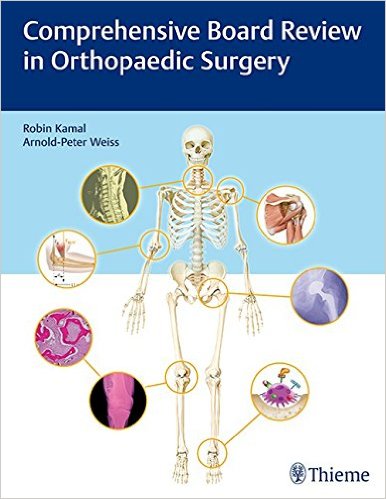 [highlight color="red"]Comprehensive Board Review in Orthopaedic Surgery 1st Edition[/highlight]
[ads2]
Although the scope of orthopaedic surgery continues to expand on a daily basis, the fundamental information required to pass orthopaedic in-training,board, and maintenance of certification (MOC) exams remains largely unchanged, yet essential. Preparation for the Orthopaedics In-Training Exam (OITE) and American Board of Orthopaedic Surgery (ABOS) Part 1, is highly challenging. Recognizing the considerable challenges faced by residents and practicing orthopaedic surgeons, the authors have written an essential guide that provides invaluable knowledge and clinical pearls on the fundamentals of orthopaedic surgery. Every chapter is coauthored, providing readers with a well-rounded perspective from both a senior faculty member and a recently matriculated orthopaedic resident/fellow.
Chapters are organized by subspecialty, with margin boxes that highlight test-taking components, clinical insights gleaned from years of experience, and figures specifically focused on helping readers understand and retain difficult concepts. Pertinent anatomy is precisely illustrated and described in each subspecialty chapter, enabling understanding of normal and pathologic musculoskeletal system structures and functions.
[ads1]
Key Features:
An emphasis on subjects that are frequently tested on exams
Nearly 500 meticulously created illustrations
Structured treatment algorithms that include best diagnostic modalities, expected outcomes, and most common complications
Study tips, mnemonics, and classification schemes
Easy-to-read bulleted formatting enables the reader to organize, synthesize, and memorize the information with ease
This indispensable book will greatly benefit orthopaedic residents preparing for board examinations and board-certified orthopaedic surgeons who need to fulfill MOC requirements.
Product Details
Paperback: 550 pages
Publisher: Thieme; 1 edition (October 10, 2016)
Language: English
ISBN-10: 160406904X
ISBN-13: 978-1604069044
[ads2]
[ads1]