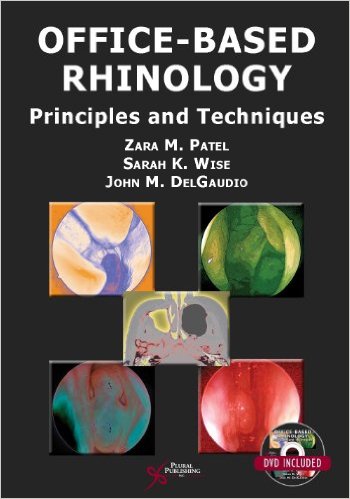 Office-Based Rhinology conveys the principles and techniques necessary for successfully undertaking various rhinology procedures in the office setting. The procedures described will range from those commonly performed in the physician s office (e.g. nasal endoscopy and debridement) to certain procedures often performed in the operating room for which, in certain patients, an office setting would be appropriate (e.g. nasal polypectomy and drainage of mucoceles). It also covers relevant sinonasal anatomy and radiology, proper patient selection, and appropriate room setup. Its straightforward approach makes it an easy to use reference, a must-have for practicing otolaryngologists and senior level residents.
The book comes with a DVD which includes 28 surgical videos.
Editorial Reviews
Review
In an ever-expanding surgical field that is constantly moving toward more office-based procedures to promote patient convenience and decreased health care costs, Office-Based Rhinology: Principles and Techniques is an outstanding addition to the current rhinology literature that is not only right on target but also right on time.
With contributions from top names in the field of rhinology from across the country, this text is organized into 15 short yet pertinently detailed chapters that begin with an overview of nasal and paranasal sinus anatomy and imaging, and progress to a more in-depth discussion of office-based procedural techniques, including proper instrumentation and room setup…[T]his text is fully comprehensive in that it also includes chapters discussing appropriate patient selection and anesthetic techniques such as nerve blocks, which are very important topics that are not always stressed during medical training.
This book is extremely well written and a very easy read. The diagrams, illustrations, and included DVD compliment and reinforce the written text quite effectively. Office-Based Rhinology: Principles and Techniques is a must-read for all current and future rhinologists who wish to stay on the cutting edge of their field, whether in academia or in private practice. Futhermore, this is an excellent text for general otolaryngoloists who wish to expand their scope of in-office procedures and need some guidance on how to do so. This text will likely encourage more otolaryngoloists to move certain procedures from the operating room to an office setting, and in doing so will hopefully have a positive impact on patient satisfaction and health care costs. –Patricia A. Lotus, MD and Marvin Fried, MD,Dept of Otorhinolaryngology- Head and Neck Surgery, Albert Einstein College of Medicine, Montefiore Medical Center, The Laryngoscope (2013)
[ads2]
Product Details
Hardcover: 168 pages
Publisher: Plural Publishing Inc; Har/DVD edition (March 15, 2013)
Language: English
ISBN-10: 1597564753
ISBN-13: 978-1597564755
[ads1]
[otw_shortcode_button href="https://www.up-4ever.com/h33qyq8hr2gr" size="medium" icon_type="general foundicon-cloud" icon_position="left" shape="square" target="_blank"]Download This Book PDF File Size 48.7 MB[/otw_shortcode_button]
[ads1]
[ads2]