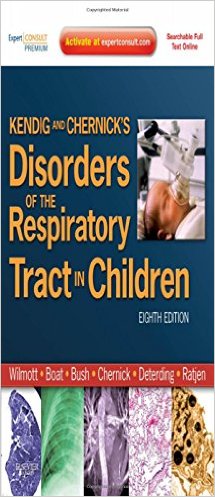 Kendig, Chernick's Disorders of the Respiratory Tract in Children is the definitive medical reference book to help you confront critical challenges using the latest knowledge and techniques. You'll get the state-of-the-art answers you need to offer the best care to young patients.
Tackle the toughest challenges and improve patient outcomes with coverage of all the common and rare respiratory problems found in newborns and children worldwide.
Get a solid foundation of knowledge to better understand and treat your patients through coverage of the latest basic science and its relevance to clinical problems.
Get comprehensive, authoritative coverage on today's hot topics, such as interstitial lung disease, respiratory disorders in the newborn, congenital lung disease, swine flu, genetic testing for disease and the human genome, inflammatory cytokines in the lung, new radiologic techniques, diagnostic imaging of the respiratory tract, and pulmonary function tests.
Learn from the experts with contributions from 100 world authorities in the fields of pediatrics, pulmonology, neurology, microbiology, cardiology, physiology, diagnostic imaging, anesthesiology, otolaryngology, allergy, and surgery.
Quickly search the complete contents online and access links to PubMed at www.expertconsult.com.
Kendig & Chernick's is the must-have definitive multimedia guide to pediatric lung disease.
[ads2]
Product Details
Series: Disorders of the Respiratory Tract in Children (Kendig's)
Hardcover: 1168 pages
Publisher: Saunders; 8 edition (April 25, 2012)
Language: English
ISBN-10: 1437719848
ISBN-13: 978-1437719840
[ads1]
[otw_shortcode_button href="https://www.up-4ever.com/dkmcn34mvxp1″ size="medium" icon_type="general foundicon-cloud" icon_position="left" shape="square" target="_blank"]Download This Book PDF File Size 57.3 MB[/otw_shortcode_button]
[ads1]
[ads2]