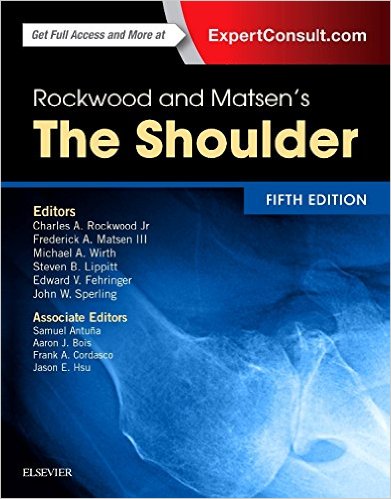 Fully updated with new technique videos, completely updated content, exciting new authors, and commentary by national and international experts in the field, Rockwood and Matsen's The Shoulder, 5th Edition continues its tradition of excellence as the cornerstone reference for effective management of shoulder disorders. This masterwork provides how-to guidance on the full range of both tried-and-true and recent surgical techniques, including both current arthroscopic methods and the latest approaches in arthroplasty. An outstanding editorial team headed by Drs. Charles A. Rockwood, Jr. and Frederick A. Matsen III ensures that you have the tools you need to achieve optimal patient outcomes for any shoulder challenge you encounter. Throughout the book the authors focus on the value of the procedures to patients, showing ways that expense and risk can be minimized.
Combines the 'how to' for 'tried and true' shoulder procedures along with the latest arthroscopic methods for managing shoulder disorders.
Focuses on the most challenging open procedures, including those often overlooked in training programs, yet thoroughly reviews the rationale for using minimally invasive arthroscopic techniques whenever possible.
[ads1]
Offers scientifically based coverage of shoulder function and dysfunction to aid in the decision-making process.
Includes more than 60 video clips that provide step-by-step guidance on key procedures.
Expert Consult™ eBook version included with purchase. This enhanced eBook experience allows you to search all of the text, figures, videos, and references from the book on a variety of devices.
Features new commentaries from international authorities – including dissenting and alternative viewpoints — and final comments by our editorial experts.
Covers new approaches, including reverse total shoulder, the latest rotator cuff repair methods, and the "ream and run" procedure, as well as emerging imaging methods.
[divider style="normal" top="20″ bottom="20″]
[ads2]
Product Details
Hardcover: 1304 pages
Publisher: Elsevier; 5 edition (October 14, 2016)
Language: English
ISBN-10: 0323297315
ISBN-13: 978-0323297318
[box type="warning" align="aligncenter" class="" width=""]This link is not available due to a takedown request in accordance with the DMCA . (learn more)[/box]
[ads1]
[ads2]