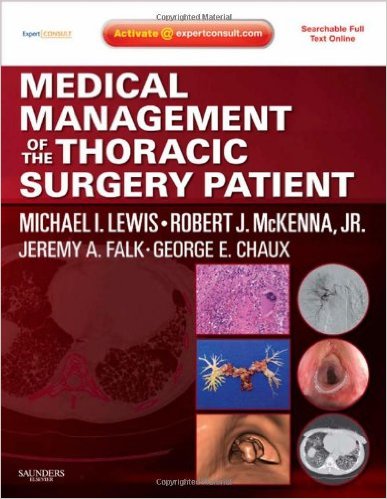 Medical Management of the Thoracic Surgery Patient, by Michael I. Lewis, MD and Robert J. McKenna, Jr., MD, is a comprehensive pulmonary and thoracic reference that takes a practical approach to the diagnosis, workup and care of the thoracic surgery patient. It is geared towards pulmonary and critical care physicians and their trainees as well as all other specialties with whom thoracic surgeons consult and interact. It outlines the principles for understanding the underlying disease entities as well as the clinical implications and complications of surgery, and interprets key surgical concepts such as correlative and functional anatomy for non-surgeons. Contributions from today's authorities…"at-a-glance" detailed key information, as well as summary bullets…and a multidisciplinary perspective, combine to offer essential guidance for confident patient management. As an Expert Consult title it includes convenient online access to the complete contents of the book―fully searchable―along with video clips of thoracic procedures, patient information sheets, all of the images downloadable for your personal use, and references linked to Medline at www.expertconsult.com.
Includes access to a companion website at expertconsult.com where you can search the complete contents of the book, watch video clips of thoracic procedures, print out patient information sheets, download all of the images, and review references linked to Medline…providing you with a powerful resource for convenient consultation anytime, anywhere.
Features 'real world' illustrative cases presented in a brief, bulleted format that facilitates easy access to and retention of the material.
Examines every aspect of diagnosis and management for pre-, peri-, and postoperative care for an all-encompassing reference to respond to unique surgical problems.
Provides coverage of individual topics supplemented by a brief case-based presentation, where appropriate, that lend a real-life perspective to the material.
Contains all of the "need-to-know" facts for a complete, thorough consultation in diagnosis and treatment of patients who undergo thoracic surgery.
Offers practical information that utilizes the experience of today's leaders while based on evidence in the literature for coverage you can trust.
Examines current clinical controversies, providing you with an arena for discussion of sensitive topics and guidance on preferred approaches when relevant.
Presents pearls, pitfalls, key points, and other learning elements in each chapter, to help you locate summaries of essential information "at-a-glance."
Features chapters written by specialists of various disciplines, to equip you with a balanced perspective on each condition.
[ads2]
Product Details
Series: Expert Consult
Hardcover: 560 pages
Publisher: Saunders; 1 Har/Psc edition (October 9, 2009)
Language: English
ISBN-10: 1416039937
ISBN-13: 978-1416039938
[ads1]
[otw_shortcode_button href="https://www.up-4ever.com/05e8k6fd38fz" size="medium" icon_type="general foundicon-cloud" icon_position="left" shape="square" target="_blank"]Download This Book PDF File Size 28.1 MB[/otw_shortcode_button]
[ads1]
[ads2]