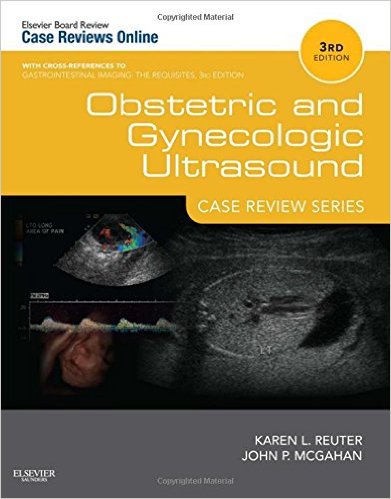 An outstanding title from the popular Case Review Series, Obstetric and Gynecologic Ultrasound provides 119 case histories, with over 300 corresponding images, questions, answers, commentary, references, and more, to enhance your imaging interpretation skills in obstetric and gynecologic ultrasound. Its discussions incorporate the most recent knowledge from OB/GYN ultrasound literature, providing an excellent review for residents and practitioners alike.
Turn to Obstetric and Gynecologic Ultrasound as excellent review for the Boards!
Effectively prepare for certification, recertification, and practice with content that mimics the new format of board exams as well as the everyday clinical experience.
Review the full range of imaging findings in obstetric in gynecologic ultrasound with the addition of fetal ultrasound and high-risk-pregnancy imaging.
Access the most up-to-date information on fetal cardiac anomalies with expert guidance on the use of the 3-vessel view to access the outflow tracts; use of MRI in confirming and accessing fetal anomalies; ultrasound and MRI features of placenta accrete; and ultrasound evaluation of nuchal translucency, nuchal thickness, and fetal cystic hygroma.
Boost your skills with 119 cases organized by level of difficulty, as well as multiple-choice questions, answers, rationales, and more.
[divider style="normal" top="20″ bottom="20″]
[ads2]
Product Details
Series: Case Review
Paperback: 272 pages
Publisher: Saunders; 3 edition (March 28, 2013)
Language: English
ISBN-10: 1455743755
ISBN-13: 978-1455743759
[ads1]
[box type="warning" align="aligncenter" class="" width=""]This link is not available due to a takedown request in accordance with the DMCA . (learn more)[/box]
[ads1]
[ads2]