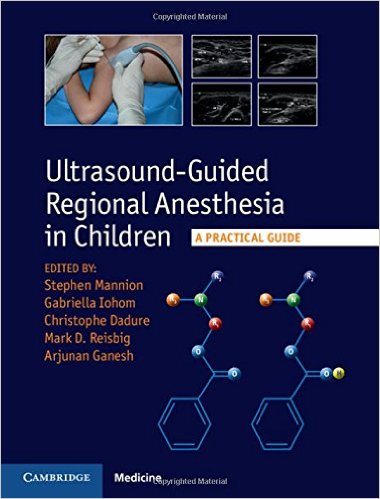 [highlight color="blue"]Ultrasound-Guided Regional Anesthesia in Children: A Practical Guide 1st Edition[/highlight]
[ads2]
Ultrasound has revolutionized the practice of regional anesthesia, yet there remains a paucity of good resources on ultrasound-guided regional anesthesia in children. This book offers a much-needed practical guide to all the major ultrasound-guided blocks in pediatric patients, including neuraxial, truncal, upper and lower limb blocks. The core principles of good clinical practice in regional anesthesia are described and discussed, including the pharmacology of local anesthetics in children, the performance of regional anesthesia, the management of complications, and the clinical anatomy of each block. Every block chapter provides both a "how to" section and also a comprehensive literature review, with an up-to-date and relevant bibliography for reference and further reading. Chapters are illustrated with unique anatomical images and detailed descriptions. Both trainee and experienced anesthesiologists will find this an essential resource for the safe and effective performance of modern regional anesthesia in children.
[ads1]
Editorial Reviews
Book Description
This practical resource will help anesthesiologists and other physicians perform safe and effective regional anesthesia (nerve blocks) in children. Clear and concise descriptions, numerous illustrations, and clinical tips for both basic and advanced ultrasound-guided regional anesthesia techniques are suitable for both the beginner and experienced practitioner.
About the Author
Stephen Mannion is Consultant Anaesthetist and Chairman, Department of Anaesthesiology at South Infirmary Victoria University Hospital, Cork, Ireland.
Gabrielle Iohom is a Consultant Anaesthetist/Senior Lecturer in the Department of Anaesthesia and Intensive Care Medicine, Cork University Hospital and University College Cork, Cork, Ireland.
Christophe Dadure is Professor of Anaesthesiology, Department of Anesthesia, Hopital Lapeyronie, Montpellier, France.
Mark Reisbig is an Assistant Professor of Anesthesiology in the Department of Anesthesiology, Creighton University Medical Center, CHI Alegent Creighton Clinic, Omaha, NE, USA.
Arjunan Ganesh is Associate Professor of Anesthesiology and Critical Care at the Hospital of the University of Pennsylvania and the Children's Hospital of Philadelphia, Philadelphia, PA, USA.
Product Details
Hardcover: 168 pages
Publisher: Cambridge University Press; 1 edition (October 1, 2015)
Language: English
ISBN-10: 1107098777
ISBN-13: 978-1107098770
[ads1]
[ads2]