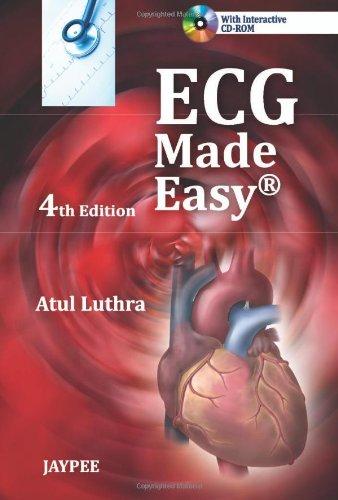 [highlight color="red"]ECG Made Easy (Fourth Edition) Atul Luthra[/highlight]
[ads2]
[highlight color="black"]Key Features[/highlight]
• Describes in detail from basics to therapeutics.
• Emphasis has been given on ECG diagnosis, causation of abnormalities and their clinical relevance.
• Helpful for students in preparing for their examinations without having a search through voluminous textbooks.
• Cardiac rhythms like arrhythmia, its significance, differential diagnosis and practical aspects of management are discussed together under individual chapter headings.
[highlight color="black"]DOODY'S BOOK REVIEW[/highlight]
REVIEWER'S EXPERT OPINION
Selim R Krim, MD (Ochsner Clinic Foundation)
Description
This fourth edition of a practical book on reading ECGs includes a CD ROM.
Purpose
It is intended as an introduction to ECG interpretation.
[ads1]
Audience
This book will be very useful for students, residents, nurses, and clinical providers from all specialties who are being introduced to ECG interpretation. Dr. Luthra is a recognized authority in this field.
Features
The book starts with basic ECG nomenclature and progresses to the morphology of the tracing, such as determining the axis and ECG segment abnormalities, before focusing on ECG diagnosis. It is well illustrated with good quality ECG images.
Assessment
This ECG book is useful and easy to read. Students and providers in training will certainly benefit from it. One limitation is that the CD-ROM included with the book is not compatible with Macintosh systems.
Bibliographic Details
Title: ECG Made Easy (Fourth Edition)
Publisher: Jaypee Brothers Medical Publishers (P) Ltd.
Publication Date: 2012
Binding: Softcover
Book Condition: New
Edition: 4th edition.
[ads2]
[ads1]