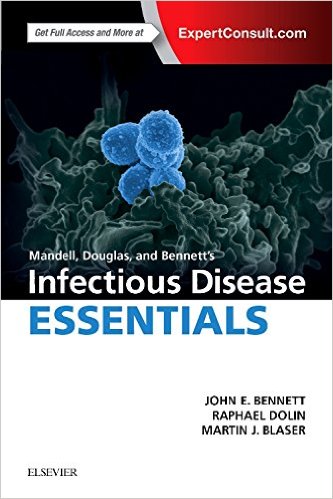 [highlight color="black"]Mandell, Douglas and Bennett's Infectious Disease Essentials, 1e[/highlight]
[ads2]
Brought to you by the expert editor team from Principles and Practice of Infectious Diseases, this brand-new handbook provides a digestible summary of the 241 disease-oriented chapters contained within the parent text. Boasting an exceptionally templated design with relevant tables and illustrations, it distills the essential, up-to-date, practical information available in infectious disease. This high-yield manual-style reference will prove useful for a wide variety of practitioners looking for quick, practical, and current infectious disease information.
Expert Consult eBook version included with purchase. This enhanced eBook experience allows you to search all of the text, figures, images, and references from the book on a variety of devices.
Provides a digestible summary of the 241 disease-oriented chapters contained within Principles and Practice of Infectious Diseases, 8th Edition (ISBN: 978-1-4557-4801-3).
Covers hot topics in infectious disease, such as Hepatitis B and C, Influenza, Measles, Papillomavirus, HIV, MERS, and C. difficile.
Templated design includes relevant tables and illustrations.
Ideal for the non-infectious disease specialist, including primary care physicians, physician assistants, nurse practitioners, students, residents, pharmacists, emergency physicians, and urgent care physicians.
[ads1]
Editorial Reviews
Review
"This shortened version of what is considered the staple for instruction and practice in the field of infectious diseases features summaries of the 241 disease-oriented chapters from that book…the purpose is twofold: to serve as an introduction to the study of infectious diseases and to provide a more accessible source of information. Given that the main textbook is extensive and impractical to transport, the objective of this book is laudable."
-Leopoldo Alberto Dobronski Jacome, MD (Creighton University Medical Center) for Doody's Review Service
About the Author
Raphael Dolin, MD, Maxwell Finland Professor of Medicine (Microbiology & Molecular Genetics), Harvard Medical School; Attending Physician, Beth Israel Deaconess Medical Center Brigham and Women's Hospital, Boston, Massachusetts
Martin J. Blaser, MD, Muriel G. and George W. Singer Professor of Translational Medicine, Professor of Microbiology, Director, Human Microbiome Program, Departments of Medicine and Microbiology, New York University School of Medicine, Langone Medical Center, New York, New York.
[ads2]
Product Details
Series: Principles and Practice of Infectious Diseases
Paperback: 560 pages
Publisher: Elsevier; 1 Pap/Psc edition (March 31, 2016)
Language: English
ISBN-10: 0323431011
ISBN-13: 978-0323431019
[ads2]
[ads1]