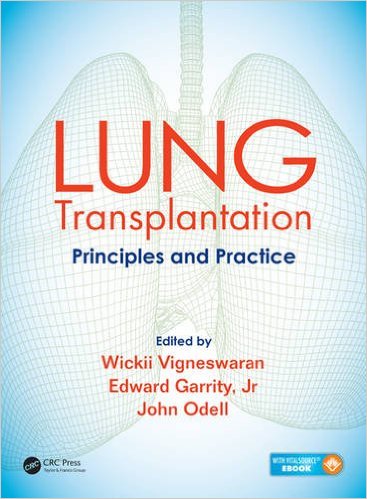 [highlight color="red"]Lung Transplantation: Principles and Practice 1st Edition[/highlight]
[ads2]
Lung Transplantation: Principles and Practice covers the current practice in donor and recipient management as well as current treatment strategies and outcomes. With 39 chapters from international experts in the field, the book is divided into four broad sections: General Topics, Donor Management, Recipient Management and Outcome, and the Future of Lung Transplantation.
The book discusses significant advances achieved in the past decade in areas such as donor allocation, organ preservation and management, recipient selection, management and support, surgical and critical care techniques, immune suppression, and infection prophylaxis. Specific instances of pulmonary disease that commonly necessitate lung transplantation are also covered.
Generously illustrated in full color, this valuable resource is relevant to both specialists and other providers who may refer or care for patients before and after transplantation.
[ads1]
Editorial Reviews
Review
"This thorough review of lung transplantation covers in detail all aspects, providing an excellent resource for all health professionals involved in this field. The accompanying ebook can be accessed using different platforms (PC, iPad, Kindle, etc.) and provides tools to easily find chapters, figures, and references… This is one of the most complete resources on lung transplantation and it provides a wealth of information that is easy to access via the online version." – Reinaldo Rampolla, MD(Ochsner Medical Center), Doody Enterprises
About the Author
Edited by
Wickii T. Vigneswaran, MD, MBA, FRCSC, FRCS(CTh), FACS, professor and chief of thoracic surgery, Loyola University Medical Center and Stritch School of Medicine, Chicago (Maywood), Illinois, USA
Edward R. Garrity, Jr., MD, MBA, professor of medicine, vice chair of clinical operations, and associate director of transplantation services, University of Chicago, Illinois, USA
John A. Odell, MBChB, FRCS(Ed), FACS, emeritus professor of surgery, Mayo Clinic, Jacksonville, Florida, USA
[ads2]
Product Details
Paperback: 461 pages
Publisher: CRC Press; 1 Har/Psc edition (December 21, 2015)
Language: English
ISBN-10: 1482233916
ISBN-13: 978-1482233919
[ads2]
[ads1]