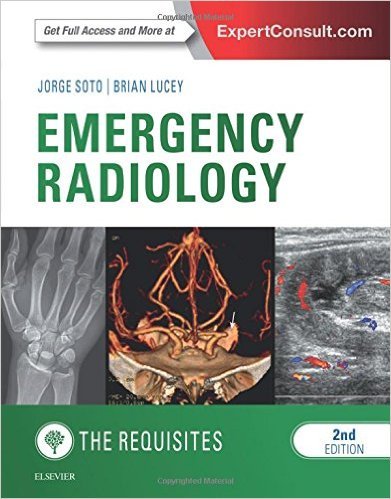 [highlight color="green"]Emergency Radiology: The Requisites, 2e (Requisites in Radiology) 2nd Edition[/highlight]
[ads2]
Get the essential tools you need to make an accurate diagnosis in the emergency department! Part of the popular Requisites series, Emergency Radiology: The Requisites delivers the conceptual, factual, and interpretive information you need for effective clinical practice in emergency radiology, as well certification and recertification review. Master core knowledge the easy and affordable way with clear, concise text enhanced by at-a-glance illustrations, boxes, and tables – all revised and enhanced with digital content to bring you up to date with today's state of the art knowledge.
Presents emergent findings and differential diagnosis tables so that important content is identified clearly within the text.
Divides the contents of the book into two sections ― trauma and non-trauma ― to mirror the way you practice.
Organizes the material in structured, consistent chapter layouts for efficient and effective review.
Provides clinical material on radiology procedures that define your role in managing a patient with an emergent condition.
[ads1]
Expert Consult eBook version included with purchase. This enhanced eBook experience allows you to search all of the text, figures, images, and references from the book on a variety of devices.
Prepare for written exams or clinical practice with critical information on CTA in the ED on coronary, aorta, brain, and visceral arteries, plus new protocols for trauma and non-traumatic injuries.
Stay up to date on what's new in the field with thoroughly revised content and new, high-quality images obtained with today's best technology.
Get optimal results from today's most often-used approaches, including the increase in routine use of "panscan" for trauma patients.
Gain a practical, visual understanding of emergency radiology thanks to more than 900 multi-modality images and easy access to the eBook version.
Study and review in the most efficient way, with structured, consistent chapter layouts for time-saving and effective exam preparation.
Editorial Reviews
Review
"This is an essential and quick read for radiology residents in training and a reference for practicing clinicians across various specialties. The superlative image quality and painstaking labeling of each image reduces the need for text and conveys key concepts in a visually appealing manner. The most outstanding feature of the book is it's concise and easy to understand presentation. This should certainly be part of the required reading for every medical student and resident with an interest in radiologic diagnosis."
-Parthiv Mehta, MBBS, MD (Baystate Medical Center) Doody's Score: 91 – 4 Stars!
Product Details
Series: Requisites in Radiology
Hardcover: 432 pages
Publisher: Elsevier; 2 edition (April 29, 2016)
Language: English
ISBN-10: 0323376401
ISBN-13: 978-0323376402
[ads2]
[ads1]