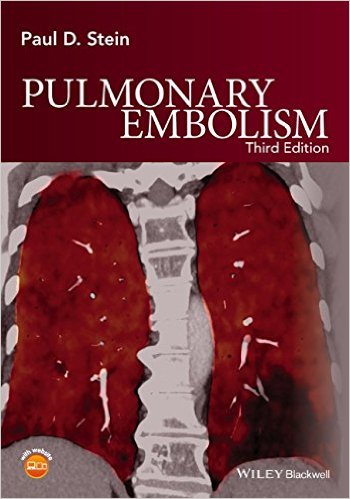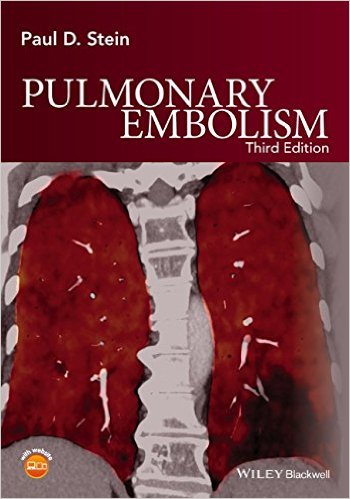 [highlight color="red"]Pulmonary Embolism 3rd Edition[/highlight]
[ads2]
A must have resource for clinicians and investigators  interested in pulmonary embolism and deep venous thrombosis
Highly illustrated with numerous tables and graphs alongside clear concise text
Includes chapters addressing pulmonary embolism (PE) and deep venous thrombosis (DVT) in relation to diseases and disorders such as; chronic heart failure, cancer, diabetes, stroke, chronic obstructive pulmonary disease (COPD) and many more
Discusses the role the different tools offered in imaging for PE, including echocardiography, multidetector computed tomography (CT), single photon emission computed tomography (SPECT), ventilation-perfusion (V-Q) imaging, dual energy CT, and magnetic resonance angiography
Contains 29 new chapters and includes new content on epidemiology of deep venous thrombosis; use of the new anticoagulants (dabigatran, rivaroxaban, and apixaban) for DVT and PE; indications and results with thrombolytic therapy and with vena cava filters; and information and indications for invasive mechanical thrombectomy and thrombolysis
Written by an internationally recognized and respected expert in the field
[ads1]
Editorial Reviews
From the Back Cover
Pulmonary embolism (PE) is the third most common acute cardiovascular disease after acute myocardial infarction and stroke. This fully updated third edition supplies the latest information on epidemiology, methods of diagnosis, preferred diagnostic pathways, new medications including the new anticoagulants, and new recommendations for prophylaxis and treatment of pulmonary embolism and its immediate cause, deep vein thrombosis.
An essential and comprehensive resource for physicians and allied professionals in the field of this difficult-to-diagnose and life threatening condition
Highly illustrated with numerous tables and graphs alongside clear concise text
Includes chapters addressing pulmonary embolism (PE) and deep venous thrombosis (DVT) in relation to diseases and disorders such as; chronic heart failure, cancer, diabetes, stroke, chronic obstructive pulmonary disease (COPD) and many more
Discusses the role the different tools in imaging for PE, including, echocardiography, multidetector computed tomography (CT), single photon emission computed tomography (SPECT), ventilation-perfusion (V-Q) imaging, dual energy CT, and magnetic resonance angiography
Contains 29 new chapters and includes new content on epidemiology of deep venous thrombosis; use of the new anticoagulants (dabigatran, rivaroxaban, and apixaban) for DVT and PE; indications and results with thrombolytic therapy and with vena cava filters; and information and indications for invasive mechanical thrombectomy
Written by an internationally recognized and respected expert in the field
This book is a dependable and well referenced resource for in-depth information about pulmonary embolism (PE) and deep venous thrombosis (DVT).
[ads2]
Product Details
Hardcover: 688 pages
Publisher: Wiley-Blackwell; 3 edition (May 31, 2016)
Language: English
ISBN-10: 1119039088
ISBN-13: 978-1119039082
[ads2]
[ads1]