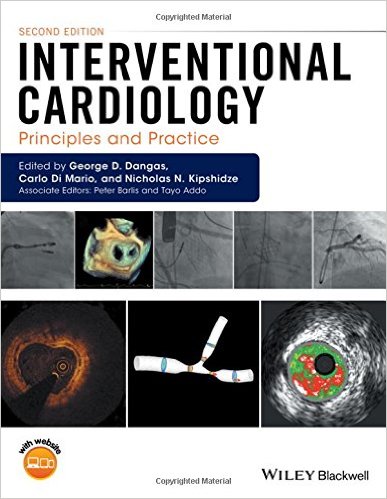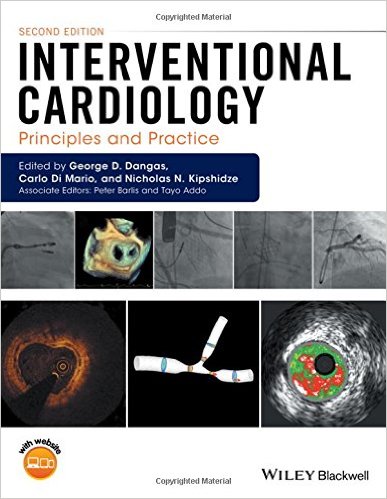 [highlight color="red"]Interventional Cardiology: Principles and Practice 2nd Edition[/highlight]
[ads2]
Expert guidance from internationally recognized authorities, who provide clear and current updates on all aspects of interventional cardiology. This new edition;
Contains a radically expanded chapter contents list presented in four clear sections; coronary interventions, interventional pharmacology, structural heart interventions, and endovascular therapy
Includes 46 new chapters, including the latest advances in bioresorbable coronary stents, advanced transcatheter aortic valve replacement, MitraClip, new transcatheter mitral valve interventions, and more
Chapters are templated for rapid referral, beginning with pathophysiological background and relevant pathology, moving to mechanisms of treatment, device description, procedural techniques, follow-up care, and ending with risks, contraindications and complications
Multiple choice questions at the end of each chapter for self-assessment, a total of more than 400 MCQs in the book
Features 19 procedural videos, hosted on a companion website
[ads1]
Editorial Reviews
From the Back Cover
The specialty of interventional cardiology has been expanding in every direction at an unprecedented pace over the past five years.  Patients are being treated with interventional, percutaneous, and minimally invasive methods by specialists from other areas of medicine and surgery, which adds to the overall growth and technological advancement of cardiovascular interventions and of those providing patient care. Accordingly, Interventional Cardiology: Principles and Practice has been revised extensively to reflect this new landscape, include current data, and introduce the emerging subspecialties in this second edition.
Ideal for cardiologists and related specialists  ahead of an initial certification examination, those in advanced clinical practice who need practical instruction for a certain specialized subject, as well as those who have been practicing for a long time and need to refresh their knowledge –with or without a recertification examination ahead of them– this edition brings you:
[ads2]
Internationally recognized authorities provide clear and current updates on all aspects of interventional cardiology
Contains a radically expanded chapter contents list presented in four clear sections; coronary interventions, interventional pharmacology, structural heart interventions, and endovascular therapy
Includes 46 new chapters, including the latest advances in bioresorbable coronary stents, advanced transcatheter aortic valve replacement, MitraClip, new transcatheter mitral valve interventions, and more
Chapters are templated for rapid referral, beginning with pathophysiological background and relevant pathology, moving to mechanisms of treatment, device description, procedural techniques, follow-up care, and ending with risks, contraindications and complications
Multiple choice questions at the end of each chapter for self-assessment, a total of more than 400 MCQs in the book
Features 19 procedural videos, hosted on a companion website
Written and edited by the global pioneers who introduced and refined the techniques in current use, this second edition is the definitive guide to interventional cardiology and an essential purchase for the modern-day cardiologist.
Product Details
Hardcover: 816 pages
Publisher: Wiley-Blackwell; 2 edition (January 30, 2017)
Language: English
ISBN-10: 1118976037
ISBN-13: 978-1118976036
[ads2]
[ads1]