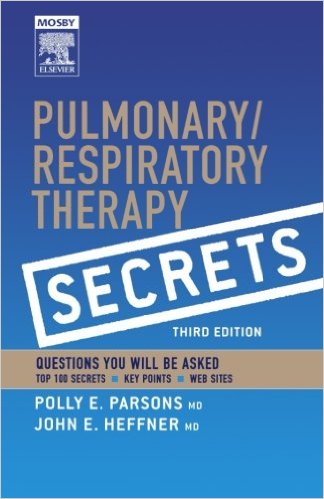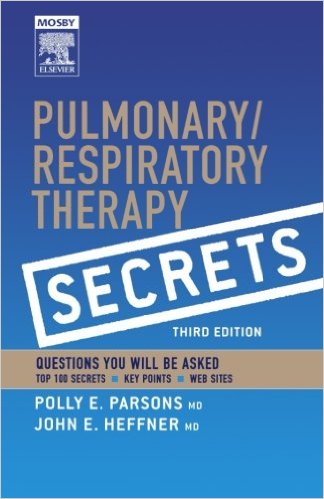 [highlight color="blue"]Pulmonary/Respiratory Therapy Secrets 3rd Edition[/highlight]
[ads2]
This volume in the very popular Secrets Series® is back in an exciting, updated, and completely redesigned 3rd Edition. A new, two-color page layout, a more portable size, and a list of the "Top 100 Secrets" in pulmonary medicine help you better meet the challenges you face daily. You will still find all of the features you have come to rely on in the Secrets Series―a questions- and answer-format, lists, mnemonics, tables, and an informal tone that make reference fast and easy. No matter what questions arise in practice or while preparing for boards, this 3rd edition has the answers―in print and online.
Includes a list of the "Top 100 Secrets" to keep in mind during residency and practice.
Features a new, more compact size for enhanced portability.
Makes information easy to find with a new, two-color page layout and "Key Point" boxes.
Identifies useful websites that help you obtain additional information on a specific topic and provides live links in the online version.
Now includes STUDENT CONSULT access! www.studentconsult is an innovative website that allows you to build a personalized, fully integrated online library, where you'll find…
The entire contents of every STUDENT CONSULT title you purchase.
Integration links to bonus content in other STUDENT CONSULT titles.
Powerful search capabilities- View all excerpts relevant to keyword or subject searches (up to 300 words per hit) from every book in the series.
Image library.
POCKETConsult―Download portions of your personal library onto your handheld.
Student resources―Sharpen your skills, stay informed, and have fun!
[ads1]
Editorial Reviews
About the Author
Polly E. Parsons, M.D., Professor Department of Medicine; Director, Pulmonary and Critical Care Medicine Unit, University of Vermont College of Medicine, Fletcher Allen Health Care, Burlington, Vermont; and John E. Heffner, M.D., Professor and Associate Dean, Department of Medicine, Medical University of South Carolina, Charleston, South Carolina
Product Details
Paperback: 640 pages
Publisher: Mosby; 3 edition (June 2, 2006)
Language: English
ISBN-10: 0323035868
[ads2]
[ads1]