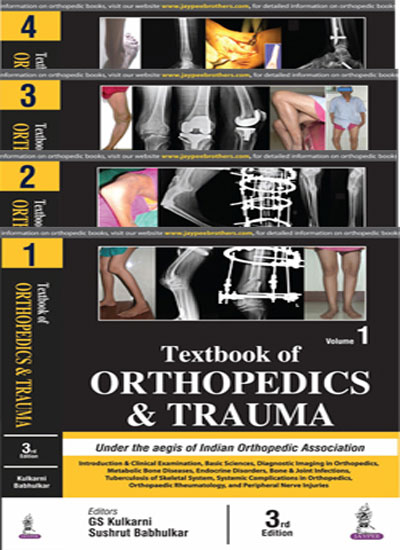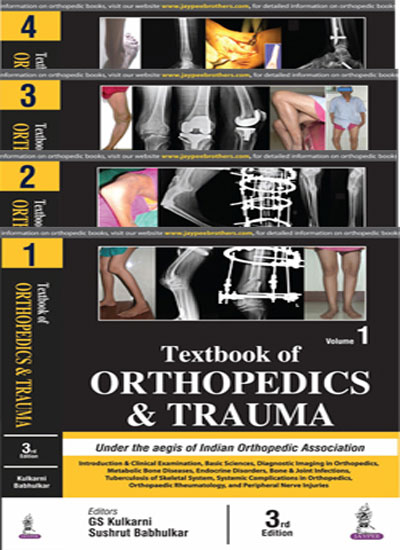 [highlight color="red"]Textbook of Orthopedics and Trauma (4 Volumes)[/highlight]
[ads2]
Quick Overview
All the chapters are fully updated till 2015. Sections on poliomyelitis and leprosy have been deleted and some new chapters like vacuum-assisted closure and Masquelet's membrane techniques have been added.
Key Features
• Since the latest edition of this book, there have been tremendous advances in the management of trauma as well as orthopaedics. In these 4 volumes, all the chapters have been updated with recent advances
• India has population of more than 1.3 billion. With an experience of huge clinical material, many Indian authors have become trusted global authorities. They have contributed up-to-date chapters to this book
• Many of the new authors represent the next generation of orthopedic surgeons. A number of them are excellent superspecialists
• Organized under the aegis of the Indian Orthopedic Association, a major section of the text has be written by experienced expert Indian authors and some special topics have been authored by the masters in their fields abroad
• In India, road-traffic accidents are shockingly high. Surgeons face with increasing number of complex trauma and its complications, such as malunion, nonunion , post-traumatic deformity and infection. With huge clinical experience, masters in trauma have contributed state-of-the-art management of trauma, which is an expanding branch of orthopaedics. Therefore, more number of pages are devoted to trauma section to cover the latest technology by masters in trauma
[ads1]
• This book is an excellent reference book for consultants and a must for postgraduate students as it gives state-of-the-art information regarding management in orhopedics and trauma. Recent trends and need-to-know information in clinical examinations, pertinent and rehabilitation has been included which is of immense help to postgraduate students and consulting orthopedic surgeons
• It has been designed to adequately cover all such conditions, which are wantonly missing from the Western textbooks. The discussion centers around the diseases and the problems peculiar to the developing countries and covers all such aspects
• This textbook has gained its reputation not only in India but also abroad for including a variety of spectrum of orthopedic conditions, their approaches and solutions.
Target Audience
Postgraduate students and orthopedic surgeons.
[ads2]
Product Detalis
| | |
| --- | --- |
| ISBN | 9789385891052 |
| Edition | 3/e |
| Publish Year | 2016 |
| Pages | 3692 |
| Size | 8.5″ X 11″ |
| Cover Type | Hard Back |
| With CD/DVD | No |
[ads2]
[ads1]