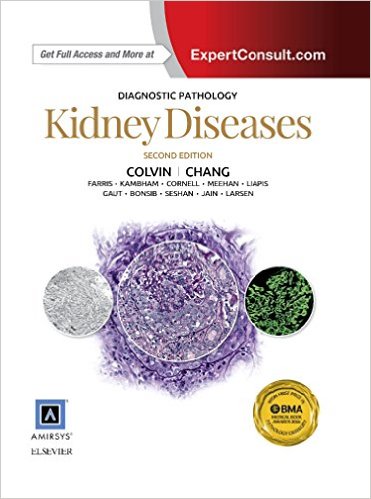 [highlight color="red"]Diagnostic Pathology: Kidney Diseases, 2e 2nd Edition[/highlight]
[ads2]
Part of the highly regarded Diagnostic Pathology series, this updated volume is a visually stunning, easy-to-use reference covering all aspects of common and rare renal diseases and their variants. Outstanding images―including gross and microscopic pathology, a wide range of stains, and detailed medical illustrations―make this an invaluable diagnostic aid for every practicing pathologist, resident, or fellow. Written by leading pathologists, this second edition presents an up-to-date, concise presentation of major pathological, clinical, pathophysiological, and genetic information for over 240 diagnoses.
High-quality, carefully annotated images highlight critical information, including difficult issues of grading and staging and diagnostic dilemmas not covered in depth in other texts
Time-saving reference features include bulleted text, a variety of test data tables, key facts in each chapter, annotated images, and an extensive index
Thoroughly updated content throughout with a particular emphasis on practical information that directly assists in making and supporting a diagnosis
[ads1]
Over 25 new chapters with information on major advances in nephropathology/nephrology that have occurred since the first edition, especially in the classification of MPGN/complement-related diseases, lupus nephritis, transplant pathology, and newly recognized immunologic and genetic diseases such as ciliopathies, tubulointerstitial nephritis, and glomerulopathies
Expert Consult eBook version included with purchase allows you to search all of the text, figures, and references from the book on a variety of devices
Editorial Reviews
Review
"This outstanding book is highly recommended for practicing general or renal pathologists, as well as for pathology residents and fellows in training. Because of the ease of use, the bulleted key points, and high quality images with detailed annotations, this book is a great resource for use during day-to-day sign out… This is a phenomenal book with outstanding photomicrographs, excellent annotations, and succinct but pertinent pearls that meets the needs of pathologists at all levels of training." Reviewed by Erin E Quist, MD (University of Nebraska Medical Center) Doody's Score: 98 – 5 Stars!
[ads2]
Product Details
Series: Diagnostic Pathology
Hardcover: 1144 pages
Publisher: Elsevier; 2 edition (October 6, 2015)
Language: English
ISBN-10: 0323377076
ISBN-13: 978-0323377072
[ads2]
[ads1]