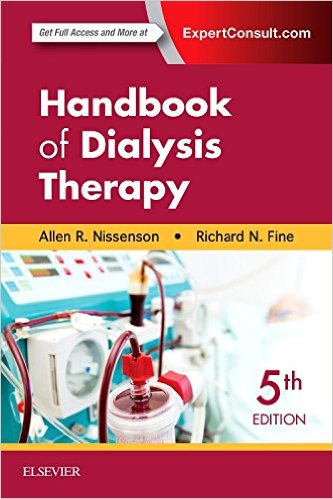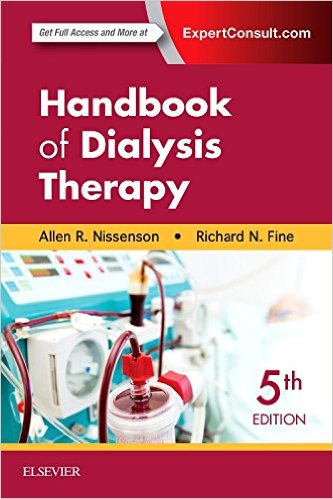 [highlight color="red"]Handbook of Dialysis Therapy, 5e 5th Edition[/highlight]
[ads2]
Providing practical, immediately useful guidelines that can be applied directly to patient care, Handbook of Dialysis Therapy is a must-have resource for all dialysis caregivers. This new edition has been updated with the latest cutting-edge technology, dialysis techniques, and complications related to various diseases for both pediatric and adult patients. In-depth yet concise, it explains complex dialysis concepts through abundant diagrams, photos, line drawings, and tables, while its readable hands-on approach allows for quick review of key information.
Presents the practice-proven experience of top experts in the field of dialysis treatment.
Offers dialysis guidance for both adult and pediatric patients in one convenient source.
Features a readable hands-on approach, allowing you to quickly review the complicated concepts of dialysis.
Includes helpful annotated bibliography lists in each section for further in-depth research on any subject.
Explains complex dialysis concepts through abundant diagrams, photos, line drawings, and tables.
[ads1]
Features new chapters on care delivery, patient-centric care, rehabilitation, quality of life, geriatrics, and interventional nephrology.
Includes information on the management of the pediatric patient undergoing dialysis.
Defines the quality imperatives, roles, and responsibilities of dialysis facility medical directors and attending nephrologists.
Updates nephrologists on the latest alternative dialysis modalities.
Expert Consult eBook version included with purchase. This enhanced eBook experience allows you to search all of the text, figures, images, and references from the book on a variety of devices.
Editorial Reviews
About the Author
Dr. Richard E. Fine received his Bachelor's and Ph.D degrees in Biochemistry from University of California at Berkeley and Brandeis University respectively. He then was a postdoctoral fellow in the laboratory of Francis Crick and Sydney Brenner at the Laboratory of Molecular Biology in Cambridge, U.K. During this period he and his colleague, Dennis Bray provided the first evidence for actin in growing neurons. Dr. Fine became an Assistant Professor of Physiology and Biochemistry at Boston University School of Medicine and demonstrated the existence of actin regulatory molecules, tropomyosin and troponin C in growing neurons, and he subsequently became interested in the role of clathrin coated vesicles in endocytic and exocytic processes in neurons and in other tissues. He also isolated and characterized vasopressin receptors, demonstrated for the first time that a large molecular, transferrin, can cross the blood brain barrier. His laboratory used an antisense oligonucleotide for the first time in vivo in the rabbit retina to demonstrate the critical role of kinesin in the transport of synaptic vesicles, neuropeptide containing vesicles and vesicles destined for the plasma membrane. In recent years Dr. Fine's laboratory has focused on the role of the amyloid beta peptide in Alzheimer's disease especially in brain capillary endothelium. Also he has recently focused on the role of a mutant protein VPS35, a component of the retromer in Parkinson's and Alzheimer's diseases. During his career he has received over $25,000,000 in grant funding, have served on both NIH and VA review panels and authored or co-authored over 100 research papers.
[ads2]
Product Details
Paperback: 1176 pages
Publisher: Elsevier; 5 edition (November 23, 2016)
Language: English
ISBN-10: 0323391540
ISBN-13: 978-0323391542
[ads2]
[ads1]