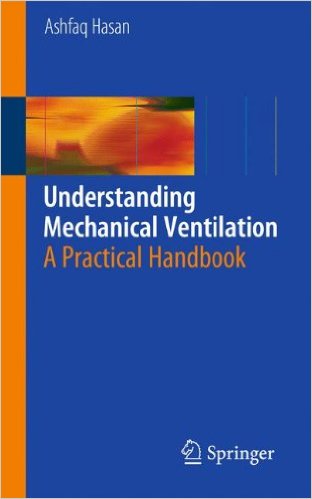 [highlight color="red"]Understanding Mechanical Ventilation: A Practical Handbook 2nd ed. 2010 Edition[/highlight] [ads2]
Simplify, simplify! Henry David Thoreau For writers of technical books, there can be no better piece of advice. Around the time of writing the first edition – about a decade ago – there were very few monographs on this s- ject: today, there are possibly no less than 20. Based on critical inputs, this edition stands thoroughly revamped. New chapters on ventilator waveforms, airway humidification, and aerosol therapy in the ICU now find a place. Novel software-based modes of ventilation have been included. Ventilator-associated pneumonia has been se- rated into a new chapter. Many new diagrams and algorithms have been added. As in the previous edition, considerable energy has been spent in presenting the material in a reader-friendly, conv- sational style. And as before, the book remains firmly rooted in physiology. My thanks are due to Madhu Reddy, Director of Universities Press – formerly a professional associate and now a friend, P. Sudhir, my tireless Pulmonary Function Lab technician who found the time to type the bits and pieces of this manuscript in between patients, A. Sobha for superbly organizing my time, Grant Weston and Cate Rogers at Springer, London, Balasaraswathi Jayakumar at Spi, India for her tremendous support, and to Dr. C. Eshwar Prasad, who, for his words of advice, I should have thanked years ago. vii viii Preface to the Second Edition Above all, I thank my wife and daughters, for understanding.
[ads1]
Editorial Reviews
From the Back Cover
The care of patients with multiple life-threatening problems is a monumental challenge. Burgeoning information has deluged the generalist and placed increasing reliance on the specialist. Predictably, this has led to the evolution of a team approach, but this does not assist the novice in critical care, with little practical and relevant information available on learning specific procedures and best practice.
This new edition of Understanding Mechanical Ventilation: a Practical Handbook familiarizes physicians, nurses and respiratory technologists with the concepts that underlie mechanical ventilation. Physiological concepts are stressed throughout this book in order to address the specifics of mechanical ventilation, while currently accepted strategies for patients with specific disorders are reviewed in detail. Ventilator waveforms, airway humidification, aerosol therapy and the use of novel software-based modes of ventilation in the ICU are also included.
The emphasis throughout the book is on presenting material in a reader-friendly, practical style incorporating numerous figures and tables. In this way, it will be a vital reference to all involved in the management of patients requiring mechanical ventilation in the ICU.
[ads2]
Product Details
Paperback: 543 pages
Publisher: Springer; 2nd ed. 2010 edition (February 23, 2010)
Language: English
ISBN-10: 1848828683
ISBN-13: 978-1848828681
[ads2]
[ads1]