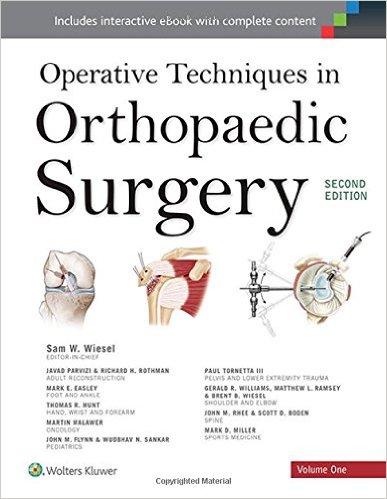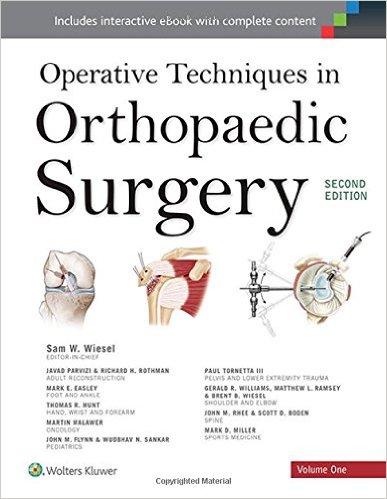 [highlight color="red"]Operative Techniques in Orthopaedic Surgery (Four Volume Set) Second Edition[/highlight]
[ads2]
Lavishly illustrated, comprehensive in scope, and easy to use, the second edition of
Operative Techniques in Orthopaedic Surgery
guides you to mastery of every surgical procedure you're likely to perform – while also providing a thorough understanding of how to select the best procedure, how to avoid complications, and what outcomes to expect. More than 800 global experts take you step by step through each procedure, and 13,000 full-color intraoperative photographs and drawings clearly demonstrate how to perform the techniques. Extensive use of bulleted points and a highly templated format allow for quick and easy reference across each of the four volumes.
Key Features
Find highly illustrated, expert guidance for virtually any orthopaedic procedure you're likely to perform.
Stay up to date with the most current procedures – more than 50 procedures are new to this edition!
Quickly review the relevant trauma or pathophysiology before viewing step-by-step coverage of the procedure.
Easily locate and remember information thanks to bullet points, a highly templated format, and a graphic-rich presentation.
Get easy-to-follow details on orthopaedic procedures involving all joints, as well as sports medicine, pediatrics, the spine, and orthopaedic oncology.
Benefit from a consistent approach to each procedure that makes reference quick and easy: definition, anatomy, physical exams, pathogenesis, natural history, physical findings, imaging and diagnostic studies, differential diagnosis, non-operative management, surgical management, perils and pitfalls, postoperative care, outcomes, and complications.
Access an updated web-based version, now featuring easier navigation and search capabilities.
[ads1]
Now with the print edition, enjoy the bundled interactive eBook edition, which can be downloaded to your tablet and smartphone or accessed online and includes features like:
Complete content with enhanced navigation
Powerful search tools and smart navigation cross-links that pull results from content in the book, your notes, and even the web
Cross-linked pages, references, and more for easy navigation
Highlighting tool for easier reference of key content throughout the text
Ability to take and share notes with friends and colleagues
Quick reference tabbing to save your favorite content for future use
[ads2]
Editorial Reviews
Review
'describe[s] in a
detailed
,
step-by-step
manner the technical parts of how to do
the majority of orthopedic surgical procedures
'
'ebook format adds value and accessibility'
'an ideal single reference source'
-Doodys Publishers' Club, August 21, 2015
Product Details
Hardcover: 6068 pages
Publisher: LWW; Second edition (July 31, 2015)
Language: English
ISBN-10: 1451193149
ISBN-13: 978-1451193145
[ads2]
[ads1]