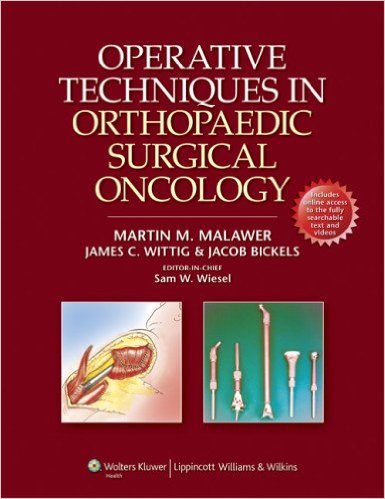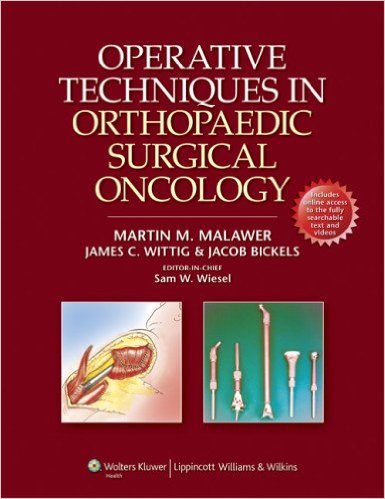 [highlight color="red"]Operative Techniques in Orthopaedic Surgical Oncology First Edition[/highlight]
[ads2]
Operative Techniques in Orthopaedic Surgical Oncology provides full-color, step-by-step explanations of all operative procedures in orthopaedic oncology.  This text contains the chapters from the oncology section in Sam W. Wiesel's Operative Techniques in Orthopaedic Surgery. Written by experts from leading institutions around the world, this superbly illustrated volume focuses on mastery of operative techniques and also provides a thorough understanding of how to select the best procedure, how to avoid complications, and what outcomes to expect.  Accompanying the book is a companion website with the fully searchable text and procedural videos.
The user-friendly format is ideal for quick preoperative review of the steps of a procedure. Each procedure is broken down step by step, with full-color intraoperative photographs and drawings that demonstrate how to perform each technique. Extensive use of bulleted points and tables allows quick and easy reference.
Each clinical problem is discussed in the same format: definition, anatomy, physical exams, pathogenesis, natural history, physical findings, imaging and diagnostic studies, differential diagnosis, non-operative management, surgical management, pearls and pitfalls, postoperative care, outcomes, and complications.
[ads1]
Editorial Reviews
Review
"Wow. This is a sensational book that efficiently walks users through a very challenging series of approaches, techniques, and procedures.The sections on amputations are exceedingly well done and could certainly be applied to other areas of orthopedics, such as trauma or infection.  I strongly recommend this book for all teaching libraries where residents can access it to prepare for the rare oncology case but also to prepare for boards and in-training exams. For surgeons, it is a compact and efficient techniques book that easily replaces many heavier, thicker tomes that do not have the visuals to match this offering."
Doody's Reviews (February, 2013)
Mark R Hutchinson, MD(University of Illinois at Chicago College of Medicine)
Weighted Numerical Score: 92 – 4 Stars!
[ads2]
Product Details
Hardcover: 416 pages
Publisher: LWW; First edition (February 13, 2012)
Language: English
ISBN-10: 1451176287
ISBN-13: 978-1451176285
[ads2]
[ads1]