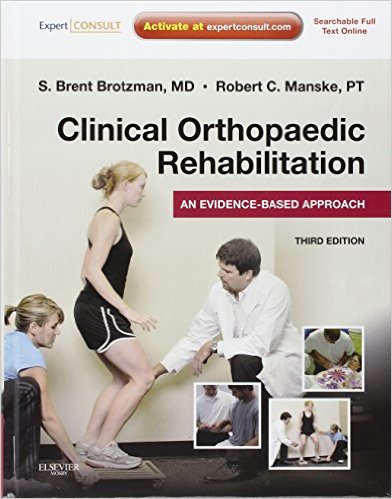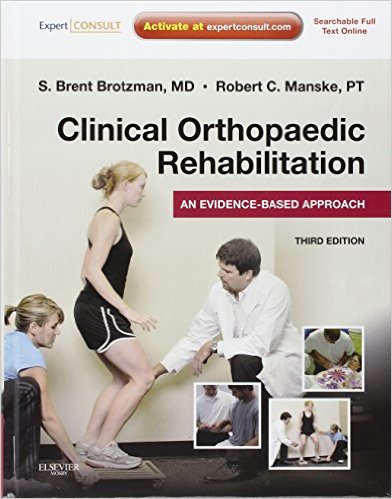 [highlight color="red"]Clinical Orthopaedic Rehabilitation: An Evidence-Based Approach 3rd Edition[/highlight]
[ads2]
In Clinical Orthopaedic Rehabilitation: An Evidence-Based Approach, Dr. S. Brent Brotzman and Robert C. Manske help you apply the most effective, evidence-based protocols for maximizing return to function following common sports injuries and post-surgical conditions. A well-respected, comprehensive source for evaluating, treating, and rehabilitating orthopaedic patients, the 3rd Edition guides you on the prevention of running injuries, the latest perturbation techniques, and the ACL rehabilitation procedures and functional tests you need to help get your patients back in the game or the office. You'll also find a brand-new spine rehabilitation section, an extensively revised art program, and online access to videos demonstrating rehabilitation procedures of common orthopaedic conditions at www.expertconsult.com.
Get expert guidance on everything you may see on a day-to-day basis in the rehabilitation of joint replacements and sports injuries.
Apply evidence-based rehabilitation protocols to common sports conditions like ACL and meniscus injuries and post-surgical rehabilitation for the knee, hip, and shoulder.
See how to perform perturbation techniques for ACL rehabilitation, ACL functional tests and return-to-play criteria after reconstruction, analysis of running gait to prevent and treat running injury, and more with videos online at www.expertconsult.com.
Use the expert practices described in Tendinopathy and Hip Labral Injuries, part of the expanded "Special Topics" section, to help patients realize quicker recovery times.
[ads1]
Visualize physical examination and rehabilitation techniques with the extensively revised art program that presents 750 figures and illustrations.
The new edition of the well-respected Brotzman has been updated to consistently include evidence-based rehabilitation protocols, as well as comprehensive coverage and videos at a great value!
Editorial Reviews
Review
"This textbook is easy to read, with well-placed text boxes and many illustrations. Photographs and line drawings are used in good combination to complement the text and illustrate the techniques described. This book is useful for orthopaedic pathology and physical therapy students and also to sports orthopedists."
The Journal of Bone and Joint Surgery (review of 2nd edition)
"The aim of the authors, in preparing this third edition of Clinical Orthopaedic Rehabilitation, is immediately to strengthen and broaden the scope of information in the field of traumatology-orthopedics and rehabilitation applied to pathology sports, all practitioners treating musculoskeletal disorders as well as orthopedic surgeons, family physicians, and coaches. All information is based on sound evidence and covers all the new and innovative techniques in examination, classification systems, differential diagnoses, and treatment options."
ReeDOC, July 2011
[ads2]
Product Details
Series: Expert Consult Title: Online + Print
Hardcover: 608 pages
Publisher: Mosby; 3 edition (April 4, 2011)
Language: English
ISBN-10: 0323055907
ISBN-13: 978-0323055901
[ads2]
[ads1]