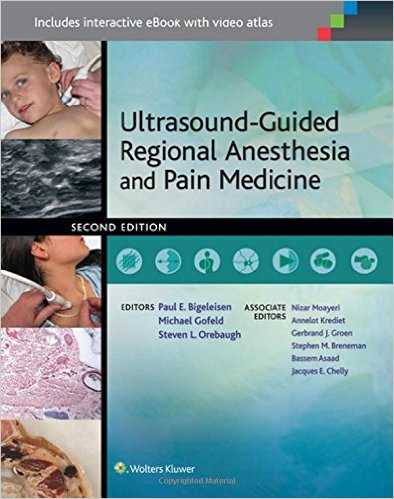 [highlight color="red"]Ultrasound-Guided Regional Anesthesia and Pain Medicine Second Edition[/highlight]
[ads2]
Get up-to-date on all of the techniques that are rapidly becoming today's standard of care with Ultrasound-Guided Regional Anesthesia and Pain Medicine, 2nd Edition. With this extensively revised edition, you'll see how the increased use of  ultrasound for diagnosis and treatment of chronic pain and other medical conditions can transform your patient care. Noted authorities discuss the techniques you need to know for upper and lower extremity blocks, truncal blocks, pain blocks, trauma and critical care, and more.
Key Features:
Quickly grasp the salient features of each block, including indications, relevant anatomy, the transducer type, needle, local anesthetic, technique, tips, and references for further study.
Learn from global experts on topics such as recent ultrasound-guided musculoskeletal blocks and the uses of ultrasound in the treatment of shock and trauma.
Get up to speed on new techniques, thanks to 48 new chapters covering transforaminal cervical injections, cervical facet injections, insertion of peripheral nerve stimulators using ultrasound guidance, genital femoral nerve injections, suprascapular nerve injection, ultrasound guidance to fill implanted pain reservoir, sacroiliac injections, and much more.
Care for your young patients more effectively with a separate section devoted to pediatric regional anesthesia.
See exactly how to perform the techniques with high-quality ultrasound images and depictions of relevant anatomy.
Now with the print edition, enjoy the bundled interactive eBook edition, offering tablet, smartphone, or online access to:
[ads1]
Videos of selected procedures.
Complete content with enhanced navigation.
Powerful search tools and smart navigation cross-links that pull results from content in the book, your notes, and even the web.
Cross-linked pages, references, and more for easy navigation.
Highlighting tool for easier reference of key content throughout the text.
Ability to take and share notes with friends and colleagues.
Quick reference tabbing to save your favorite content for future use.
Editorial Reviews
Review
'an
extensive collection
of ultrasound-guided techniques'
'brief yet in-depth treatment makes it useful for people with varying degrees of experience'
'This book does it all and does it splendidly.'
'No question, it is one of the best books on ultrasound-guided regional anesthesia.'
-Doodys Publishers' Club, May 8, 2015
[ads2]
Product Details
Hardcover: 592 pages
Publisher: LWW; Second edition (April 29, 2015)
Language: English
ISBN-10: 1451173334
ISBN-13: 978-1451173338
[toggle title="Click Here To Download" state="close"]https://www.zippyloads.com/tc4bqpxdqvz6[/toggle]
[ads2]
[ads1]