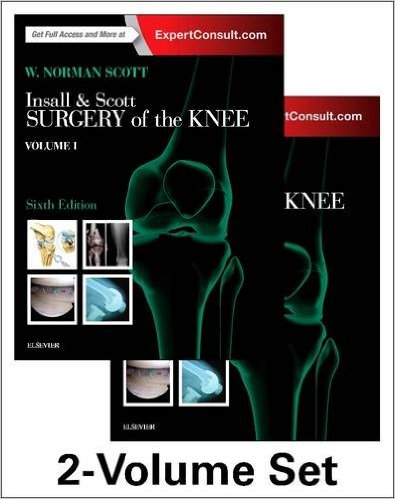 [highlight color="red"]Insall & Scott Surgery of the Knee, 2-Volume Set, 6e 6th Edition[/highlight]
[ads2]
Now offered in 2 full volumes – both in print and online – Insall & Scott Surgery of the Knee by Dr. W. Norman Scott remains the definitive choice for guidance on the most effective approaches for the diagnosis and management of the entire scope of knee disorders. This edition reflects a complete content overhaul, with more than 50 new chapters and over 400 contributors from around the world. The video program includes 70 new video clips, while new and expanded material covers a range of hot topics, including same-day surgery and hospital management of knee arthroplasty patients and anesthesia specific for knee surgery.
Extensive visual elements and video program include nearly 70 new videos — over 230 in total – as well as a Glossary of Implants featuring 160 demonstrative pictures.
Over 50 new chapters and brand-new sections on Same Day Surgery and Hospital Management of Knee Arthroplasty Patients; Quality and Payment Paradigms for TKA; Anesthesia Specific for Knee Surgery; and Preoperative Assessment, Perioperative Management, and Postoperative Pain Control.
An expanded Adult Reconstruction Section informs readers about Enhanced Primary Revision and the treatment of Peri-prosthetic fractures in TKA.
Includes enhanced worldwide approaches for all aspects of disorders of the knee from nearly 400 contributors worldwide.
Boasts updated pediatric knee considerations and updated tumor surgery principles for the treatment of tumors about the knee.
Expert Consult eBook version included with purchase. This enhanced eBook experience allows you to search all of the text, figures, images, videos (including video updates), glossary, and references from the book on a variety of devices.
[ads1]
Product Details
Hardcover: 2360 pages
Publisher: Elsevier; 6 edition (March 24, 2017)
Language: English
ISBN-10: 0323400469
ISBN-13: 978-0323400466
[ads2]
[ads1]