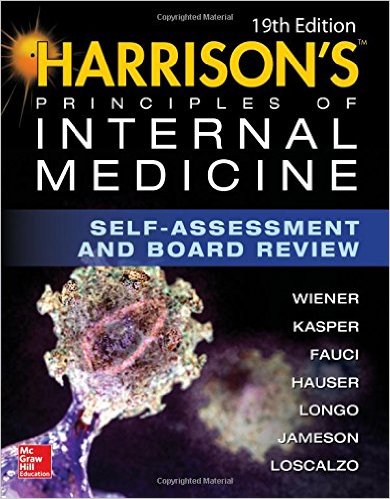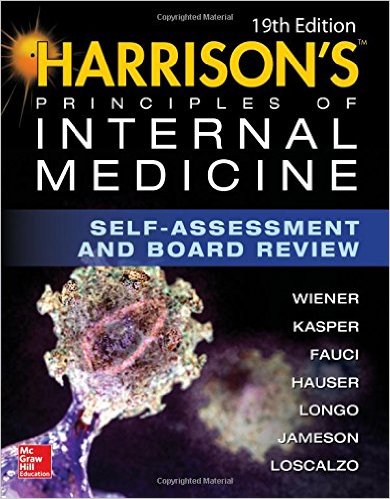 [highlight color="red"]Harrison's Principles of Internal Medicine Self-Assessment and Board Review, 19th Edition 19th Edition[/highlight]
[ads2]
Nothing prepares you for exam success like Harrison's!
VIBRANT FULL-COLOR PRESENTATION INCLUDES COLOR ATLAS — 500 ALL-NEW QUESTIONS!
Now you can add the unmatched authority of Harrison's to your board review or test preparation. Based on the content of Harrison's Principles of Internal Medicine, Nineteenth Edition, this rigorous study aid is essential for Internal Medicine Board certification or recertification/maintenance of certification, or as a refresher for any internal medicine examination.
Reflecting the accuracy, currency, and wide scope of Harrison's, this complete review of internal medicine delivers more than 1,000  extremely challenging review questions, many of which utilize realistic patient scenarios, including radiographic and pathologic images. Each question is accompanied by explanations for correct and incorrect answers. These explanations — which are derived from and cross-referenced to Harrison's Principles of Internal Medicine, Nineteenth Edition – are one of the most effective ways to learn and teach internal medicine. They are designed to bolster your understanding of pathophysiology, epidemiology, differential diagnosis, clinical decision making, and therapeutics.
The format of the book has also been enhanced, allowing for a more effective use of color images throughout. Readers will appreciate the convenience of having color images next to their citations in the text.
A GREAT WAY TO LEARN INTERNAL MEDICINE:
• Coverage spans the entire spectrum of internal medicine
• Each topic is covered in proportion to its level of importance on the Internal Medicine Examination Blueprint
• Approximately 500 NEW, never-before-published Q&As (more than 60% of the questions are NEW!)
• Includes full-color atlas
• Content follows the organization of Harrison's Principles of Internal Medicine, Nineteenth Edition – making it perfect for side-by-side study
• Beautiful full-color presentation
[ads1]
Editorial Reviews
About the Author
Internal Medicine Board Review, leading authorities you know and trust
Charles Wiener, MD (Baltimore, MD) is Professor of Medicine and Internal Medicine Program Director of Johns Hopkins School of Medicine
Dennis L. Kasper (Boston, MA)
Anthony Fauci, MD (Bethesda, MD)
Stephen L. Hauser, MD (San Francisco, CA)
Larry Jameson, MD PhD (Philadelphia PA)
Joseph Loscalzo, MD PhD (Boston, MA)
[ads2]
Product Details
Series: Harrison's Principles of Internal Medicine
Paperback: 672 pages
Publisher: McGraw-Hill Education / Medical; 19 edition (January 11, 2017)
Language: English
ISBN-10: 1259642887
ISBN-13: 978-1259642883
[toggle title="Click Here To Download" state="close"]https://www.zippyloads.com/5v70hk32moio[/toggle]
[ads2]
[ads1]