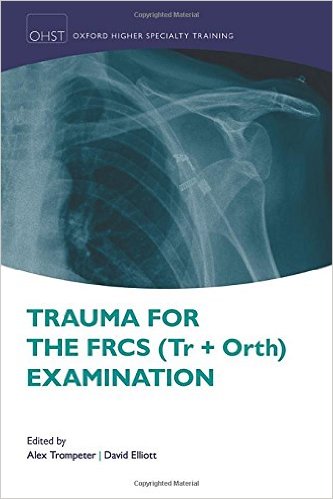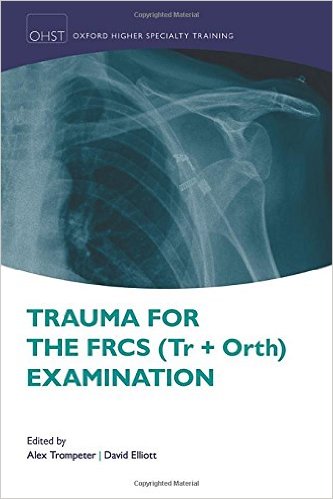 [highlight color="red"]Trauma for the FRCS (Tr+Orth) Examination 1st Edition[/highlight]
[ads2]
The FRCS (Tr+Orth) exam is a serious challenge for Orthopaedic Specialist Registrars and represents one of the final hurdles on the path to becoming a Consultant Orthopaedic Surgeon. Trauma for the FRCS (Tr+Orth) Examination is a dedicated revision resource for trauma that provides candidates with high quality self-assessment in order to maximise exam success.
Written by expert consultants and senior trainees/fellows, this book features over 100 Single Best Answer Questions, over 70 Extended Matching Questions, and 70 Vivas specialising in trauma. Each answer contains an up to date explanation, and helpful sources for further reading to ensure quick identification of key areas you need to focus on more thoroughly.
This revision resource is ideal for preparing you for the trauma questions within this challenging exam.
[ads1]
Editorial Reviews
About the Author
Alex Trompeter,
Consultant Orthopaedic Trauma Surgeon, St George's Healthcare NHS Trust, London
,David Elliott,
Consultant Orthopaedic Trauma Surgeon, Rowley Bristow Orthopaedic Unit, St Peter's Hospital NHS Foundation Trust, Chertsey, Surrey
Product Details
Series: |c OXSTHR |t Oxford Higher Specialty Training
Paperback: 448 pages
Publisher: Oxford University Press; 1 edition (January 12, 2016)
Language: English
ISBN-10: 0198749058
ISBN-13: 978-0198749059
[toggle title="Click Here To Download" state="close"]https://www.zippyloads.com/4iq1tmcjhgdj[/toggle]
[ads2]
[ads1]