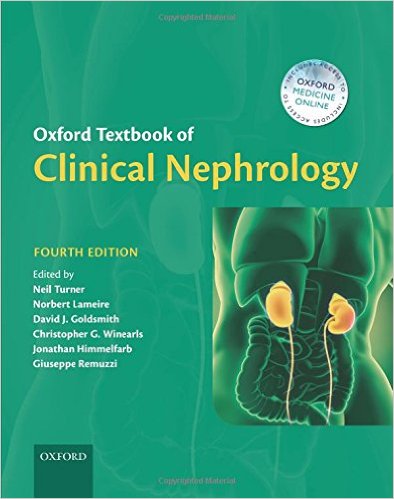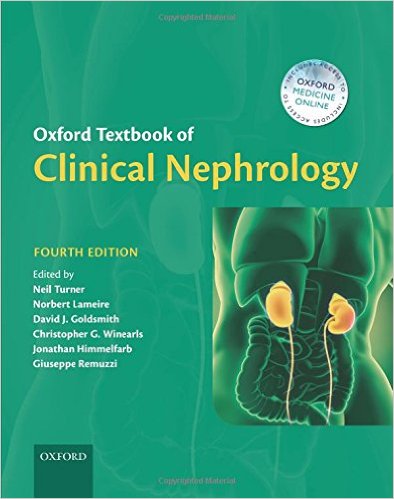 [highlight color="red"]Oxford Textbook of Clinical Nephrology Volume 1-3 4e 4th Edition[/highlight]
[ads2]
This fourth edition of the Oxford Textbook of Clinical Nephrology builds on the success and international reputation of the publication as an important resource for the practising clinician in the field. It provides practical, scholarly, and evidence-based coverage of the full spectrum of clinical nephrology, written by a global faculty of experts.
The most relevant and important reference to clinical nephrology, this is an authoritative and comprehensive textbook combining the clinical aspects of renal disease essential to daily clinical practice with extensive information about the underlying basic science and current evidence available. Each section of the textbook has been critically and comprehensively edited under the auspices of a leading expert in the field.
This new edition has been significantly expanded and reapportioned to reflect developments and new approaches to topics, and includes treatment algorithms to aid and enhance patient care where possible. The fourth edition offers increased focus on the medical aspects of transplantation, HIV-associated renal disease, and infection and renal disease, alongside entirely new sections on genetic topics and clinical and physiological aspects of fluid/electrolyte and tubular disorders. The emphasis throughout is on marrying advances in scientific research with clinical management.
Richly illustrated throughout in full colour, this is a truly modern and attractive edition which reinforces the Oxford Textbook of Clinical Nephrology's position as an indispensable reference work of consistent quality and reliability. Enriched and refined by careful revision, this new edition continues the tradition of excellence.
[ads1]
Editorial Reviews
Review
Review from previous edition: "The Oxford Textbook of Clinical Nephrology is a core text for nephrologists and this third edition is no exception. With its international authorship and editorial panel this book represents the up-to-date opinion the evidence base of medicine for the renal
patient… This is an excellent reference text for all nephrologists and a must for every medical library."
–Hospital Doctor
"A superb reference for nephrologists. Comprehensive, authoritative, well referenced and succinctly written text. Generously illustrated and delightfully bound in three volumes for the old fashioned reader with a CD-ROM of equal quality for the more modern. I would hate to be without it."
–BMA Medical Book Competition 2006
About the Author
Neil Turner has been Professor of Nephrology at the University of Edinburgh since 1998. After broad experience of general medicine he worked in renal units in Oxford, Hammersmith, and Aberdeen before moving to Edinburgh. His major research and clinical interests are currently in genetic diseases of the glomerular basement membrane, and in paediatric-adult transition. Professor Turner is involved in international educational activities through both Edinburgh University and the International Society of Nephrology. In addition to several projects to give online education to staff, he has led the PatientView project, which gives patients online access to live test results and information about their disease and treatment. In 2011 he founded an online postgraduate Masters course in Internal Medicine in collaboration with the Royal College of Physicians of Edinburgh.
[ads2]
Dr. Jonathan Himmelfarb is Director of the Kidney Research Institute, Professor of Medicine, and holds the Joseph W. Eschbach M.D. Endowed Chair in Kidney Research at the University of Washington. He is also President-elect of the American Society of Nephrology (ASN) in 2014-2015. He has served on numerous editorial boards, including the Journal of the American Society of Nephrology, Clinical Journal of the American Society of Nephrology, Kidney International, Faculty of 1000 in Medicine, and the Faculty of 1000 in Research. Current research interests include studies on a wearable artificial kidney; development of a human 'kidney-on-a-chip', and development and evaluation of risk biomarkers in acute and chronic kidney disease. He leads numerous investigator-initiated clinical trials and cohort studies, as well as multi-center collaborative studies, and has authored more than 200 peer-reviewed publications.
Dr Chris Winearls graduated from the University of Cape Town in 1973. He completed a PhD in transplant immunology at Oxford University before training in nephrology at the Royal Postgraduate Medical School and the Hammersmith Hospital, London, where he was part of the team that investigated the first clinical use of recombinant human erythropoietin. He was appointed consultant nephrologist in Oxford in 1988 and was Clinical Director 1995 to 2009. Dr Winearls is currently a Fellow of Jesus College Oxford and an Hon Senior Lecturer in Medicine at the University of Oxford. His research interests include paraprotein disorders affecting the kidney, ADPKD, The CKD construct and renal anaemia.
Product Details
Series: Oxford Textbook
Hardcover: 3040 pages
Publisher: Oxford University Press; 4 edition (December 22, 2015)
Language: English
ISBN-10: 0199592543
ISBN-13: 978-0199592548
[toggle title="Click Here To Download" state="close"]https://www.up-4ever.com/e91oivttxxz4[/toggle]
[ads2]
[ads1]