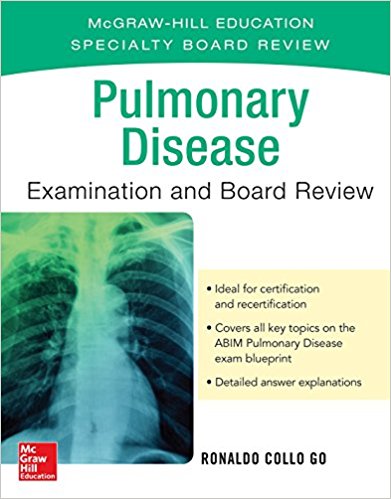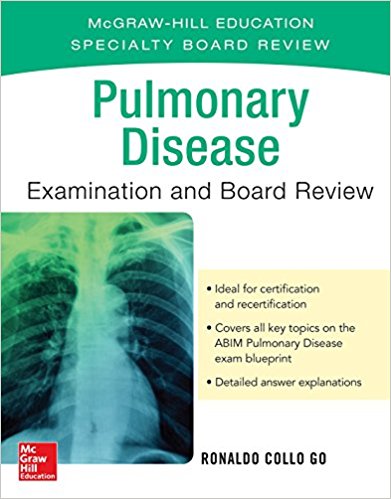 [highlight color="red"]Pulmonary Disease Examination and Board Review 1st Edition[/highlight]
[ads2]
800 Q&A deliver a rigorous review for pulmonary board certification
Part of the acclaimed McGraw-Hill Education Specialty Board Review series, this well-illustrated review is essential for pulmonary medicine physicians preparing for board certification or recertification. The coverage mirrors the board exam outline of the American Board of Internal Medicine (ABIM), focusing specifically on the most commonly tested topics in obstructive lung disease, critical care, diffuse parenchymal lung disease, sleep medicine, infections, and neoplasms.
Offering more illustrations than similar reviews, Pulmonary Disease Examination and Board Review delivers authoritative coverage of the key concepts tested on the certification exam, including: making a diagnosis, test ordering and interpretation, treatment recommendations, understanding epidemiologic studies, understanding pathophysiology, and applying basic science knowledge to clinical situations.
Case-based presentation mirrors the exam format
Includes numerous high-quality images, including: x-rays, CT scans, and electrocardiograms
Excellent as clinical refresher in pulmonary medicine
[ads1]
Editorial Reviews
About the Author
Ronaldo Collo Go, MD is affiliated with Mount Sinai Beth Israel Hospital, Division of Pulmonary, Critical Care, and Sleep Medicine, and Crystal Run Health Care in Middletown, NY.
Product Details
Paperback: 528 pages
Publisher: McGraw-Hill Education / Medical; 1 edition (May 17, 2016)
Language: English
ISBN-10: 0071845291
ISBN-13: 978-0071845298
[toggle title="Download" state="close"]https://www.zippyloads.com/9t6pnceskqwu[/toggle]
[ads2]
[ads1]