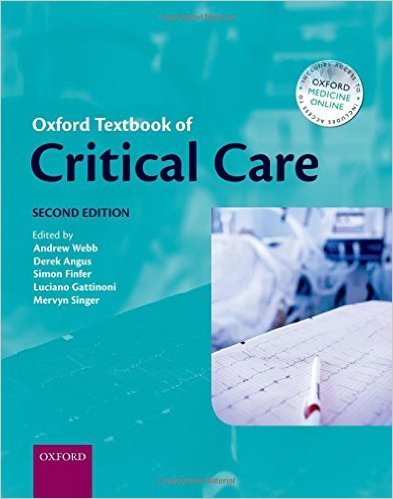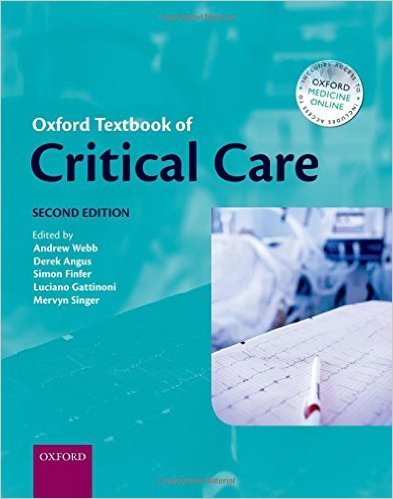 [highlight color="red"]Oxford Textbook of Critical Care (Oxford Medical Publications) 2nd Edition[/highlight]
[ads2]
The thoroughly revised second edition of the Oxford Textbook of Critical Care is a comprehensive multi-disciplinary text covering all aspects of adult intensive care management. Uniquely the book takes a problem-orientated approach providing a reference source for clinical issues experienced every day in the intensive care unit.
The text is organized into short topics allowing readers to rapidly access authoritative information on specific clinical problems. Each topic refers to basic physiological principles and provides up-to-date treatment advice supported by references to the most vital literature. Where international differences exist in clinical practice, authors cover alternative views. Key messages summarise each topic in order to aid quick review and decision making.
Edited and written by an international group of recognized experts from many disciplines, the second edition of the Oxford Textbook of Critical Care provides an up-to-date reference that is relevant for intensive care units and emergency departments globally. This volume is the definitive text for all health care providers, including physicians, nurses, respiratory therapists, and other allied health professionals who take care of critically ill patients.
This print edition of The Oxford Textbook of Critical Care comes with a year's access to the online version on Oxford Medicine Online. By activating your unique access code, you can read and annotate the full text online, follow links from the references to primary research materials, and view, enlarge and download all the figures and tables.
[ads1]
Editorial Reviews
Review
"[T]his is a new standard in critical care. I was particularly impressed at the detail provided on postintensive care syndrome and the consistent emphasis on concise, readable presentations." -Doodys Health Science
About the Author
Andrew Webb,
Clinical Professor, Division of Critical Care, The University of British Columbia Faculty of Medicine
,Derek Angus,
Professor of Critical Care Medicine, Medicine, Health Policy & Management and Clinical & Translational Science,, University of Pittsburgh School of Medicine and Graduate
School of Public Health
,Simon Finfer,
Professor of Critical Care, University of Sydney
,Luciano Gattinoni,
Professor in Anesthesiology and Intensive Care Medicine, University of Milan
,Mervyn Singer,
Professor of Intensive Care Medicine, University College London
Dr. Webb is a Clinical Professor in the Department of Medicine at UBC and VP Medicine for the Fraser Health Authority where he provides executive leadership and strategic oversight to the quality and safety of clinical care, including Infection Control, Risk Management and Legal Services. He also provides physician leadership, and oversees the development of research and education. In addition to his appointment as Special Advisor to the Dean, Faculty of Medicine, UBC, he holds a similar appointment at Simon Fraser University.
As a Consultant Physician in Critical Care Medicine he was instrumental in building academic critical care as a medical administrator, clinical researcher, educator and consultant physician helping to develop one of the strongest Critical Care research groups in the world. He is author of 75 papers and reviews, seven textbooks, 22 book chapters and eight monographs.
Dr. Angus is Distinguished Professor and Chair of the Department of Critical Care Medicine at the University of Pittsburgh School of Medicine and UPMC Health System. He holds secondary appointments in Medicine, Health Policy and Management, and Clinical and Translational Science. He completed his medical school and residency training at the University of Glasgow and fellowship training at the University of Pittsburgh. Dr. Angus' research, funded principally by the NIH, focuses on clinical, epidemiologic and translational studies of sepsis, pneumonia, and multisystem organ failure and on health services research of the organization and delivery of critical care services. He has published several hundred papers, is section editor for 'Caring for the Critically Ill' for JAMA, and the recipient of numerous awards.
Dr Finfer is a practicing critical care physician with an appointment as a Senior Staff Specialist at Royal North Shore Hospital and Director of Intensive Care at the Sydney Adventist Hospital. He is an Adjunct Professor at the University of Sydney Medical School, a past-Chair of the Australian and New Zealand Intensive Care Society (ANZICS) Clinical Trials Group.
He is a council member of the International Sepsis Forum, the Global Sepsis Alliance, and a member of the World Sepsis Day Steering Committee. Dr Finfer is a Professorial Fellow in the Critical Care and Trauma Division at The George Institute for global Health. He is active in forging major international research collaborations that have conducted large scale clinical trials. Simon is also an Editor of the Critical Care Section Editor for The Oxford Textbook of Medicine (6th Ed.), and was a Critical Care guest editor for The New England Journal of Medicine from 2011 to 2014.
Professor Luciano Gattiononi is Professor in Anesthesiology and Intensive Care Medicine, University of Milan as well as Chief of the Department of Anesthesia, Resuscitation and Pain Therapy, Policlinico Hospital of Milan. His research is focused on the pathophisiology and treatment of acute respiratory failure, including prone positioning, sepsis and acid base disorders. He has published more than 200 research articles and reviews in peer reviewed journal. In the early 1980's he worked on the quantitative analysis of thoracic CT imaging, culminating in the "baby lung" (1980s) and lung recrutability (2000s) concepts. He was awarded with the Life Time Achievement Award by the American Society of Anesthesiology and is Honorary Member of the German Society of Anesthesiology and Intensive Care, and Fellow of the Royal College of Physicians.
[ads2]
Mervyn Singer is Professor of Intensive Care Medicine at University College London. His primary research interests are sepsis and multi-organ failure, infection, shock and haemodynamic monitoring. He developed an oesophageal Doppler haemodynamic monitor that is now in widespread use worldwide, the use of which has been shown in multiple studies to improve outcomes after major surgery and reduce length of stay. He has led on a number of important multi-centre trials in critical care. He has authored various papers and textbooks including the Oxford Handbook of Critical Care, now in its 3rd Edition, and is a Council member of the International Sepsis Forum. He was the first UK intensivist to be awarded Senior Investigator status by the National Institute for Health Research, and to be invited to give plenary lectures at the European and US Intensive Care Congress
Product details
Series: Oxford Medical Publications
Hardcover: 1903 pages
Publisher: Oxford University Press; 2 edition (July 25, 2016)
Language: English
ISBN-10: 019960083X
ISBN-13: 978-0199600830
[toggle title="Download" state="close"]https://www.up-4ever.com/jjdtyugqy2ht[/toggle]
[ads2]
[ads1]